At the beginning of the week AD Sportwereld became official team partner of the Spyker Formula 1 team. Together with exposure generated by Christijan Albers, that also means car exposure from the Grand Prix of Malasia onward.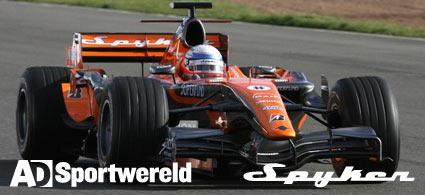 Together with increased Formula 1 exposure in AD's newspaper section AD Sportwereld, Spyker will be publishing video's on the AD website and will be initiating several contests.
I happened to overhear some possible prizes for these contests, one of the advantages of working at AD. I understand one can win a trip to Spa Franchorchamps to attent the Grand Prix there and to have a meet and great with the Spyker team. Also a lot of merchandising will be available once these contests get underway.
Don't know if there are any race fans reading this weblog but I thought you would like to know about these nice prizes.